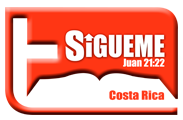 Our goal is to support the local Church by reaching the lost with the Gospel of Jesus Christ. Sigueme Costa Rica is a Nonprofit organization., so our programs are completely for free. Sígueme Costa Rica depends on the donations of people who are involved and interested in reaching people with the Gospel of Christ.
Sígueme Costa Rica (Follow me Costa Rica), was founded on April, 2013, by Eliecer Coto and his wife, and today with the Lavalle family, we work in the schools, high schools and the local churches that invite us to make our programs. The main office of Sigueme Costa Rica is in San Francisco, San Jose. Our goal is to share the gospel and show Christ around the country from border to border.
We want to be a blessing in every place we visit, God has call us to serve under the authority of the fundamental Church. Thats why we are open to help you in your Church or High School, just call us or write us and we will gladly help you and work toghether in God's work.
For more information about what we believe please click on the following link ''STATEMENT OF FAITH''.