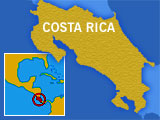 Location:
Middle America, between Nicaragua and Panama
borders both the Caribbean Sea and Pacific Ocean
Size (Area): 51,100 square kilometers (including Isla del Coco)
Climate:
Tropical and sub-tropical;
Dry season lasts from December to April;
Rainy season from May to November;
Cooler in highlands.
Terrain:
costal plains separated by rugged mountain terrain;
has over 100 volcanic cones, including several major volcanoes
lowest point – Pacific Ocean, 0 m
highest point – Cerro Chirripo – 3,810 m
Natural Resources: hydropower
Natural hazards:
Earthquakes;
Hurricanes along Atlantic coast;
Flooding and landslides in lowlands at onset of rainy season;
Active volcanoes.
Population: 4,755.234
Age breakdown:
0-14 years: 30.8 % (male 603,270; female 575, 766)
15-64 years: 63.9 % (male 1,239,618; female 1,211,641)
65 years and older: 5.3 % (male 95, 182; female 109,457).
Population growth rate: 1.61 %
Birth rate: 19.83 births/1,000 population
Death rate: 4.31 deaths/1,000 population
Net migration rate: 0.52 migrants/1,000 population
Infant mortality: 10.87 deaths/1,000 live births
Life expectancy at birth:
Total population: 76.22 years;
Female: 78.89 years;
Male: 73.68 years.
Ethnic groups:
White (including mestizo): 94%;
Black: 3%;
Amerindian: 1%;
Chinese: 1%;
Other: 1%.
Religion:
Roman Catholic: 76.3%;
Evangelical: 13.7%;
Other Protestant: 0.7%;
Jehovah's Witnesses: 1.3%;
Other: 4.8;
None: 3.2%.
Languages:
Spanish (official);
English – spoken around Puerto Limon.
Government type: democratic republic
President: Luis Guillermo Solís
Capital: San Jose
Provinces: San Jose, Alajuela, Heredia, Cartago, Limón, Guanacaste and Puntarenas.
Economy: Costa Rica has a basically stable economy that is dependant on tourism, agriculture and electronics exports, but low coffee prices and an overabundance of bananas have hurt the agricultural sector in recent years. The government continues to grapple with a large deficit and massive internal debt, but poverty in the country has been dramatically reduced over the last 15 years and a strong social safety net has been established.
GDP:
Purchasing power parity: $31.9 billion;
Real growth rate: 0.3%;
Per capita: purchasing power parity -- $8,500.
Population below the poverty line: 21%
Labour force: 2.2 million
Unemployment rate: 5.2%
Source: CIA World Factbook